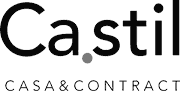 Ca.stil
Via Vittorio Bachelet 5/F
33050 Bagnaria Arsa (Udine)
Italy
---
Ca.stil is a commercial trademark that summarizes the merging of some of the district's historical production companies that have worked for years in the sector of Contract furnishing.

Thanks to this competitive asset, Ca.stil can utilize different work processing methods to produce many product lines with highly varied design themes, using various materials like steel, aluminium, stainless steel, glass, wood, polyurethane, etc.

Top production technology and great flexibility (with a much appreciated quality-price ratio) are thus the essential factors of Ca.stil philosophy.