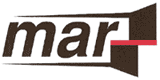 Mar Srl
Via E. Fermi 3/A
33042 Buttrio (Udine)
Italy
---
A young truth and releasing is the winning paper of our company!
The dream and the passion of Mar srl: to construct and to commercialize chairs, seats and tables in wood and metal.
Experience matured in the field of the working of the wood and the metal and the commercialization of chairs, seats and tables, in 1995 is been born the Mar society srl, situated in one of the more specialistic and "industrialized" zones of the production of analogous chairs and, just in the heart of the famous "Triangle of the Chair", to S. Giovanni al Natisone (Udine) Italy.
Mar srl today proposes an immense range of products, in wood and metal, assigns you to a more and more wide market and demanding, with particular attention turned to the field of the contract.
Dedication particular attention to the quality of the materials, the ergonomic shapes, the design for the search of products al top.
The company, is present to multiple thematic fairs, between which Host, biennial fair in the month of November to Milan, and IT IS of Rimini, to November.