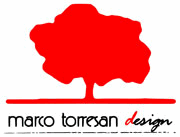 Marco Torresan Design
via Caozocco 21/A
31020 San Zenone degli Ezzelini (Treviso)
Italy
INFO ABOUT Marco Torresan Design
---
A young company that combines the innovative research,the experience and tradition.
The mix of this three characteristics:
the innovative research, result of the specialist degree course,
the experience accumulated since 1969 in the furniture sector,
the tradition derived from centuries of Venetian school,
are guarantee for the customer.
It's priority our choice of product quality, innovative drawing, the materials and machinings.
We thank all who will lend trust our products.