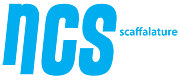 N.C.S.
Z.I. sul Cosa 15
33097 Spilimbergo (Pordenone Italy)
•
telephone
•
fax
•
e-mail
•
website
•
road map
description N.C.S.
N.C.S. Scaffalature offer a complete range of structures suitable to solve stocking problems of all kinds of companies from trading to manufacture, from small workshops to industries. Technical office is always on hand for consultancy, customized solutions and to design lay-outs according to the needs of the client. An efficient staff of technicians ensures quick assistance on installations and maintenance of the structures.
The company strenght is the use of first class materials, certified and complying to the current regulations, that ensure sturdy and durable structures.