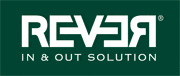 Rever Srl
Via Aristide De Togni 7
20123 Milano (Milano)
Italy
---
Solutions designed to be the sole solution. freeze proof, even when covered by ice and snow, comfortable by the pool in the summer sun. Elegant in front of a fireplace, solutions made to fit to any environment. The natural result of people the user experience who constantly put the user experience at the core of their design.

Rever is a company that focuses on high-level furniture production both for indoor and outdoor, entirely Made in Italy, featuring characteristics of extraordinary comfort due to usage of innovative TecnoRev last generation paddings.

REVER is a company with a strong attitude to quality and attention to detail; any idea and any product are born with a belief to perform not just a piece of furniture, though a moment of relaxation for a person.
All furnishings are created and styled in collaboration with famous Italian designers. All products by REVER are padded with open cell polyurethane foam with mold-resistance antibacterial properties and they suit perfectly any outdoor space such as SPAs, hotels and beaches.
Upholstered in innovative high- technologic materials to ensure a long service life combined with low maintenance, they feature outstanding resistance to sunlight, humidity, saltiness, yet to chlorine water.
Furthermore, every piece is a fruit of customization by choosing from a wide range of fabrics, leathers and eco-leathers in different colors to emphasize artistic attitude and add personality to all the Rever products.