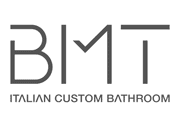 Complete furniture for bathroom with open wall units
Similar products
---
Complete bathroom furniture with double sink and double rectangular mirror.
Wall-mounted bathroom cabinet with doors; open wall units and wall units with doors.

FLY
Lines and curves are joined to create new movement: this is Fly BMT, a revolution in bathroom shapes with an innovative and modern design.
CARCASE AND DOORS
Fly is available in all the lacquered fi nishes of the BMT colour chart and in the new Matrix wood fi nishes.
The lacquered version is made of Medium Density Fiber board, while the wood fi nish version is made of poplar particle board (Class E1).
Lacquered carcases cannot be paired with wood doors and vice versa, nor can mat lacquered carcases be paired with glossy lacquered doors and vice versa.
The cabinet carcase with fl ush doors is only available in the white fi nish, and it is the only version that allows for combining a lacquered carcase with a wood fi nish door.
FINISHES
Fly is available in the mat, glossy and metallic lacquered versions and in Matrix wood fi nishes.
The lacquered version is available in all of the colours of BMT colour chart.
The mat lacquering is done using polyurethane paint, while for glossy and metallic lacquering or the well-established method of not directly applying the glossy paint is used, rather, after applying the mat lacquer, two layers of clear glossy paint are applied and then brushed.
In this way, the surface hardness increases, creating a special insulation and giving the furniture an extremely shiny appearance.
The new Matrix laminates are available in 4 different colours: White, Walnut, Hemp and Smoke.
RUNNERS
Fly runners allow for full drawer extraction, and are equipped with a "Slow Motion" closing damper.
They are made with white metal sides which recall the colour of the tecnoril tops which are characteristic of the model.
The convenient internal Plexiglas dividers are available as optionals.
MIRRORS AND LAMPS
In addition to the traditional halogen, neon and G9 lamps, new types of LED lamps were adopted for FLY, with lines that blend perfectly with the shapes of the furniture; designer lamps that complete the Fly's modern style.
In addition to traditional mirrors, new mirrors with an integrated led lighting system are available for FLY.
HANDLES
The total absence of handles is a characteristic feature of FLY as the shape and design of the furniture's doors and front panels, with their lines, create the opening system, eliminating the need for handles.
Pull latch handles are available for elements that are separated from the tecnoril tops.
SINKS
Fly washbasins are built into the tecnoril tops but it is possible to use counter mounted ceramic washbasins (oval or rectangular) which enhance the model's versatility.
These are available in the new satin fi nish, in addition to the classic gloss fi nish.
VANITY TOPS
Unmistakable hallmarks of FLY are its BMT PATENTED tecnoril vanity tops.
Unique vanity tops, available in different sizes, with built-in or counter mounted washbasins.
The option of having slots in the tops is also available; these can be used as built-in towel holders and increase the furniture's functionality.
These tops can also be installed without the hole for the washbasin; in this case, the towel holder bar can be mounted on vertical side of the top.
The tops can also have two washbasins, symmetrical and non-symmetrical, made with the thickest part of the top between the two washbasins.
The top drains are available in a slit or classic circular design.
TECNORIL
Tecnoril derives its special properties from its composition, comprising 2/3 aluminium trihydrate (obtained from bauxite and therefore highly resistant to chemicals) and 1/3 acrylic resin (making the compound absolutely styrene-free), which ensures the top will be immune to yellowing over time.
This material's absorption level is 0.03 percent, making it immune to attack by chemicals such as acetone, ammonium, acetic acid, citric acid, sodium chloride, detergent solutions, oil, coffee, tea, beer and ethanol.
Even in the case of even more aggressive substances (ink) the stain only penetrates by a few tenths of a millimetre.
The top is supplied complete with a repair kit for removal of any stains which should form.
Tecnoril also has excellent heat resistance and impressive hardness (barcol hardness = 62).
What's more, this material is unaffected by limescale and completely non-toxic.
The technical laboratory tests performed by the CATAS s.p.a. chemical laboratory are available on request.