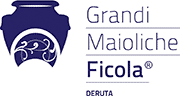 Table in decorated volcanic stone
Similar products
---
Decoration inspired by the 15th-century peacock feather pattern.
Ideal as a garden table or interior table in a classical style room.

A volcanic stone table is everlasting. It does not require any maintenance, it is shock and scratch resistant and can withstand sun, rain, sea salt, extreme temperatures, and any other atmospheric agent.

Available in all sizes and in these shapes: round, square, rectangular and oval.