Sphere-Pot Futta fondo nero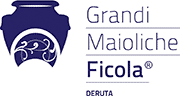 Spherical vase
Similar products
---
Special Tuscan "sphere pot" made of terracotta, glazed and hand-painted.
All the vases are fired in special kilns at about 1000 ° C , so the colors become bright, are eternal and do not fade in the sun.

Grandi Maioliche Ficola loves fascinating places where ideas and harmony live together. So devote the same care to your garden as do to your home.

Colorful and easy to place on a terrace or a balcony, along a tree-lined path, or in the shadow
of a porch. And then, of course, in the garden, their ideal location.
A decorated terracotta pot is a treasure trove of emotions, showing the colors of the fruit, the scent
of the flowers, the swirls of wild branches, the sky and then the sun.

The decoration can be bespoke. Available in one size.