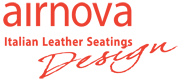 Airnova
Via Puccini 32/2
33040 Campolongo al Torre (Udine)
Italy
---
The story begins in 2000: AIRNOVA starts introducing itself to international markets, standing out very soon for fashionable items characterized by lightness and functionality, where design is a valuable trait.

The business started from an over 20 years' background and know-how of its founder, one of the leading men developing metal chairs production and leather sittings working in our region, and drew in a short time the attention of the biggest domestic and international customers.

After the specialization in "customers' taylored" items - still nowadays a strong point in our possibilities - we established our own collection "design oriented", developed along with young designers, marking out AIRNOVA's new image. We set our brand on the international scene through proposals of medium to high ended products, light and functional. The TOP TEN Award we won with our GAIA chair (designer Robby Cantarutti) at PROMOSEDIA Exhibition of September 2003 - has simply confirmed the success of our way.

Thanks to the wealth of experience in this sector and the knowledge of its technological evolutions, we made ourselves appreciated for our production capabilities and flexibility and the complete availability in "problem solving" for a best support to the customers.

The constant research and trial of new technologies applied to production processes - all strictly originated in Italy -, the continuous development of new models, the accurate testing on materials used (observing rules and regulations for the protection of the enviroment) characterize our guidelines, joining craftmade quality to industrial production.

Based on the production of metal and leather items, in 2002 we started to include wooden items in our collection: chairs and tables of fashionable design, cohering with our assortment. The success we gained proved the effectivness of this choice: to widen the range of our offers, improving quality and support to the customers, thus meeting the demand of a world market in continuous evolution.

AIRNOVA: "new, refreshing air" for a wider horizon, towards new challanges.

VISIT OUR NEWLY ENHANCED WEBSITE FROM SEPTEMBER ON.