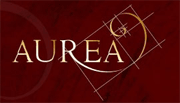 Aurea Srl
Viale del Lavoro, 1
36050 Gambugliano (Vicenza)
Italy
---
A long established love story with Art gave birth to "AUREA". Elegant items for furniture, home accessories transforming the ambience of home with a touch of vintage atmosphere in a modern environment is what AUREA can offer to all of you.
Architects, art lovers , interior designers, amateurs are the most common customers of our precious pieces. AUREA reproduces old furniture, using the same old-style techniques used in the past and the offer is also completed by proposal and project of new, bespoke items.
AUREA can make your dreams come true, also by creating unique pieces. More than thirty years of experience in the field of gilding and carving are the most reliable business card for our new customers. Our creations go around the world to dignify palaces, castles, embassies, luxury hotels, cruise ships, theatres and prestigious mansions.