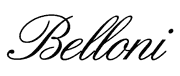 Belloni Srl
via Capuana 29
20030 Barlassina (Milano)
Italy
---
In 1898 "Magister" Angelo Belloni established the first family artisanal shop in Barlassina (Milano), to convey his passion and knowledge about arts as painting, ornamental drawing and sculpture, and taught to generation of skilful craftsmen, ebanists and carvers.
Since 1960 Belloni has developed its international market, becoming early a well-know and esteemed company, and now its brand is synonym of high quality.
Belloni production is extremely eclectic.
The high value of classical production is undeniable. This production boats pieces of different styles: Luis XV, Luis XVI, Empire, Baroque, it is manufactured with care to details by choosing precious finishings and woods, making Belloni classical collection extremely modern.
Belloni moreover, has put on the worldwide market different collections, such as: Gothic, Country, Art DecÚ revised with modern accents, and the new collection "le Gemme" realized only thanks to the exclusive cooperation with Swarovski Company.
Nowadays Belloni Company is well-know not only for its furniture, but also for projects of interior, external design and decoration in private and public field.