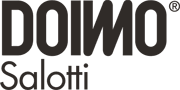 Doimo Salotti Spa
Via Montegrappa 90
31010 Moriago della Battaglia (Treviso)
Italy
INFO ABOUT Doimo Salotti Spa
---
Doimo Salotti, founded in 1968 with over forty years of history and experience in the world of upholstery, is part of the Doimo Group, one of the largest and most important Italian furnishing entities.

Through the years, the company has achieved constant and steady development, reaching a place at the forefront of the upholstery sector, both for its production potential and for its distribution framework, with a presence in Italy and abroad.

Doimo Salotti operates in Mosnigo di Moriago (Treviso) and covers an area of 25,000 square meters. The company has always followed an entrepreneurial approach that favors training programs for its sales force and employees, timely logistics, unique production method and technology, constant improvements to its plants and a strong commitment to research and design. All this in order to launch products that meet the ever-changing demands of today's consumers.

With a UNI EN ISO 9001:2000 certification, Doimo Salotti conveys a philosophy of finding the perfect harmony between creativity and industrial process, form and function, high quality and reliability at the best price. Attention to new trends, innovative materials research, new services to continually improve products, appealing and up-to-date design following latest fashion trends: these are the values of Doimo Salotti products.