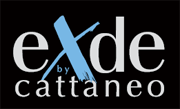 eXde by Cattaneo
via Mameli 7
22060 Cantý (Como)
Italy
INFO ABOUT eXde by Cattaneo
---
In 2001 was born eXde by cattaneo, a brand of Cattaneo, a company that for more than 40 years has been dealing with success in the field of metal furniture.

Taking advantage of precious know-how acquired in many years of activity, and with the enthusiasm and the attention towards innovationes eXde by cattaneo points towards a new work methodology: not only characterize the company in the productive area, but also in the planning and realization of its own products.

The close co-operation with various designers both Italians and foreigns brings eXde by cattaneo becoming the vital center of the entire productive process, from the conceiving to the realization of the product. Here technician and designer work together, creating a precious synergy, finalized to guarantee quality and functionality in searching of innovative solutions.

eXde by cattaneo uses exclusively highly technological processes and materials, the great value and the beauty of the object placed side by side to an extraordinary unchangeable after times and to the maximum safeness guarantee an updated product.