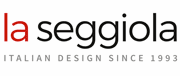 La Seggiola by L.S. Factory Srl
via Gandhi 5/7/9
20851 Lissone (Monza Brianza)
Italy
INFO ABOUT La Seggiola by L.S. Factory Srl
---
LA SEGGIOLA is a company placed in Brianza, near Milan, specialized in selling tables and chairs for home and contract furniture.
The company was born in the beginning of the 90's and enlarge the business in 2006 when creates a new line of original products.

Strong point:
-wide range of products always available in stock, ready to be delivered.
-catalog for home furniture, office, contract and restaurants
-1.200 square meters of showroom, the greatest Italian factory outlet dedicated to tables and chairs: products out of print or from the past collection, returned goods from resellers, fairs and locations.
-open air showroom for outdoor furniture where you can find interesting solutions for balcony, gardens and public place.
-fast delivery service thanks to our vehicles.