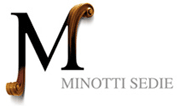 Minotti Sedie by Arte Italia Home Srl
Via Marconi 10
22060 Cabiate (Como)
Italy
INFO ABOUT Minotti Sedie by Arte Italia Home Srl
---
Craftsmanship, high technology and style, fil rouge that passes through the centuries to be transformed into a sort of "new classic". The history of Minotti Sedie is very old. Founded at the beginning of the 1900's as an artisan company producing furniture, it started to specialize from the start of the 1960's in the production of period chairs and armchairs.

Over the years the company has equipped itself with the most advanced technology: from the use of laser to personalize models to a 5-axled numerical control pantograph for the contouring, drilling and shaping of solid wood, to the processing of curved panels and folding.

The values that characterize Minotti Sedie have not changed though: common denominators have continued to be the attention paid to the client, the care in details, even those most hidden and the quality of the materials used. The vacuum-drying processes derive from the old knowledge of tradition that the company uses to guarantee maximum duration of its models.

The attention paid to the choice of the solid wood finishings is also an old tradition: walnut, cherry, beech, oak and mahogany to which a refined and elegant varnishing is added allowing for the playful union of geometric and vivid fabrics, apable of reinterpreting the most classic forms in fusion key.

The Minotti style was thus born: a sort of "nomàd" that creates unusual matches and unexpected links between Louis XVI and the most contemporary surroundings.