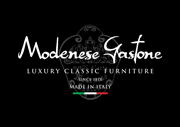 Modenese Gastone
Via Caodalbero 159
35040 Casale di Scodosia (Padova)
Italy
INFO ABOUT Modenese Gastone
---
In the 18th century Venice was one of the most fashinable cities in Europe, which strongly influeced the field of art, architecture and literature. Thanks to the several parties, celebrations, masks and theatre shows, it began to be a turist attraction, which welcomed thousands of visitors desirous to experience such a wonderful atmosphere.The greatest Italian artists found their fame and respect in this wonderful city; one of the most famous was Carlo Goldoni. He is considered one of the founders of the Italian play and his works are greately apreciated by people of every class and nationality.
Venetian people used to wear masks to enhance charm and elegance; this peculiarity lead to the creation of a real and fantastic style; the famous Italian style. The Made in Italy brand is well-known all over the world and it is considered an icon in all fields: fashion, cars, food, art furnishing, etc….
Many years ago, in 1818 the Modenese Gastone company was set up in the field of artistic furniture. Modenese Gastone has been focusing in following the prevailing fashion for 200 years; in particular it aims to create new trends, by means of its original and personal items and its toplevel range of products. If a piece of furniture is not enhanced by skilled hands, it will never be considered a work of art. In same way a mask, without its golden texture, or without its charming shape, or its delicate colour, it couldn't be so elegant or funny. The company Modenese Gastone has been carrying out continuous researches to reach the highest quality of products and details, thanks to an everlasting tradition, handed down from father to son, that includes the choice of the wood, the carving or inlaying completing it and the choice of tools to refine it, up to the polishing enhancing it with the last brush touch.
The company Modenese Gastone absolutely wants to satisfy the customer; when you have to choose your private furniture, you want to be surrounded by pleasant items and precious objects that make you feel good, in a comfortable and peaceful place. Modenese Gastone's main goal is to satisfy your senses.