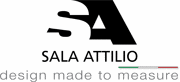 Sala Attilio
Via del Commercio 8
20851 Lissone (Monza Brianza)
Italy
---
Handcrafted furniture entirely manufactured in Italy.
Following an intuition Attilio Sala has created a product with unique features, full of personality and able to join modern design, technology and Made in Italy tradition.
Creating a style starts from a deep research on materials and an obsessive attention to detail,
all through the years.
The cleverness of the hands adds sensitivity and emotion to result accuracy, adding value to production efficiency and to the relationship with the customer.
Contemporary design, comfort, reliability, durability, an integrated offering from a single partner and a careful planning are our points of trength.
The continuous development of shapes and technical solutions strenghtens the knowledge of materials and forces to test new ones, originating projects with a
strong identity.
Thanks to all this, "Attilio Sala" is one of the major players in the production and marketing of unique furniture items for selected and sophisticated clients.
Style, professionalism and passion have consolidated the company's position in an increasingly demanding and competitive global market.