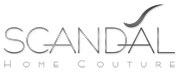 Scandāl Srl
via Brandolini 107
31029 Vittorio Veneto (Treviso)
Italy
---
Between past and present, in harmonic equilibrium betweem Glamour and eclectism. Scandāl Home Couture presents its fascinating collections, scandalously sofisticated and elegant, all Made in Italy and all created by the finest italin designers .

What unites all this is the italian design and the hand made that can be felt eveywthere. The finish of the wood, the glass surfaces, the sewed fabrics carefully united to leather, the glass pendants, the coloured ceramics or finished with the nost precious metals….all is hand worked giving the collection that unrepeatable value called "Human touch"that marks the character of every piece, making it special, unique,particular.

The "houte couture" of Scandal is highly devoted to personalisation to comply with the customer's request , and offers a wide range of custom made possibilities in terms of sizes and finishing, for every special prioject.