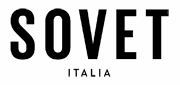 SO.VE.T. Srl
via Emilio Salgari 1/A
31056 Biancade di Roncade (Treviso)
Italy
---
Sovet was founded at the end of the 80's, the period in which glass became a very important protagonist in the furniture market.
The modern glass-processing technique enables joining the maximum artistic expression with innovative and functional projects, combining tradition, advanced technologies and contemporary design.

Starting from the 90's the company confirms itself as a leader of the sector thanks to its range of products which stand out for the originality of the forms, colours and finishes; pure protagonists of a unique and unmistakable space.

During the following years Sovet tested new solutions for the use of bent glass and refined its own project culture till developing, in 2003, together with Altherr Lievore Molina's studio, the DIVETRO collection: a real turning point for the company.
The collection represents an ambitious research project with strong contents of formal and technologic innovation, marked by the chic minimalism of Altherr Lievore Molina's studio.

In the last few years SOVET perceives the need to enlarge its offer including also other materials in order to satisfy the requirements of a wider and demanding market.
From this experience and the meeting with architect Gianluigi Landoni arises the present Sovet's research, with transversal, innovative and original proposals, for home and contract.

Today, Sovet has a production area of 9000 square metres and its products are sold in over 50 countries throughout the world.