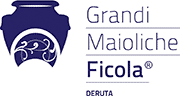 Table in wood and lava stone
Similar products
---
Grandi Maioliche Ficola creates these masterpieces by shaping and exalting the lava stone. This modern line acquires a unique aesthetic dimension, out of the ordinary. The colored glazes offer an infinite choice of combinations and styles.
More than a collection this is an opportunity to experiment: solutions with a strong and unrepeatable personality, strongly distinctive.
Grandi Maioliche Ficola uses pigments colored among the most prized, selected with years of research experience, with which they get the best chromatic and brilliant results. As lava stone, compared to a traditional ceramic, is a living and inert material, during the heat treatment the gases and metals contained in the stone, combined with the clever use of enamels and oxides, give birth to the magic of color.
A volcanic stone table is almost everlasting. It does not require any maintenance, is shock and scratch resistant and can withstand sun, rain, salt, extremes of temperature, and any other atmospheric agent.
Available in all sizes and in this shapes: round, square, rectangular, oval.