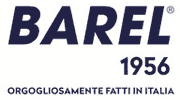 Barel Srl
Via Bra 16
12084 Mondovė (Cuneo)
Italy
---
Barel was founded in 1956 and since then specializes in producing high quality home furnishings, uniquely and proudly Made in Italy.
Each of Barel piece is creŽated in our workshops and combines the best materiŽals; it is built and finished by hand, because we believe only the real manual work, precise and original, may ofŽfer products unique for taste and quality.
La vasta gamma di articoli, che nasce dal gusto tradizionale, si sviluppa sempre di pių nel design moderno ed elegante ed č presentata sul nostro sito www.barel.it.
However, Barel is also a lively player in B2B and contract market segment, as it may offer major partnership and service to its clients.
The comapny is able to create customized versions of its catalogue products as well as artistic pieces or unique items upon a client's design.
This makes Barel the ideal partner for designers and interior decorators specialized in creating customized proposals for shops, hotels and restaurants, as well as for private homes. Our workshops, in fact, may produce special and custom-made parts, both in rough, semi-finished or finished version, in small series as well as on a large scale, to meet the most varied needs.