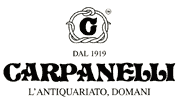 Carpanelli Srl
via Brescia 5
20832 Desio (Monza Brianza)
Italy
INFO ABOUT Carpanelli Srl
---
Carpanelli from 1919, a dynamic reality with its roots placed firmly in the past.

This really is true. Just take a look at our company structure, at our recently opened show room and at our actual production - the maximum in "modern classics" achievable to date.

The motivation behind this is our belief that art, culture, beauty and design are without age and can always leave you with new emotions.

We can see that by following traditional workmanship along with new techniques and structures we have been able to adapt to modern comforts. This is thanks to the enlargement and the reorganisation of the antique workshops which has allowed us to create a company that uses to date techniques and so permitting us to export our designs worldwide.