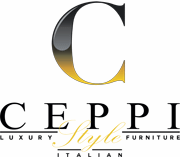 Ceppi Style Sas
Via Val Seriana 7
20821 Meda (Monza Brianza)
Italy
INFO ABOUT Ceppi Style Sas
---
Claudio Ceppi is the founder and the designer of this company located in the heart of the furniture culture: the Brianza, an area which stands out for the over 200 years of manufacturing prosperity.

Over 40 years of prestigious activities have marked the affirmation of Ceppi Style as the privileged contact for those who intend to furnish their home or a public and private building with classic and contemporary Italian luxury furniture.

The classic and contemporary luxury furniture produced by Ceppi Style over the years of its activity, has made famous the brand that has become the emblem of elegance and uniqueness for the furnishings of presidential palaces and private residences all over the world.

All the furniture that takes shape inside Ceppi Style is distinguished by the fine workmanships entirely handmade: furniture in briar and unique veneers, furniture carved in solid wood, precious inlays in refined materials and stones like the Mother-of-pearl.

The exclusive craftsmanship of the master craftsmen of Ceppi Style is able to create unique pieces and true works of art entirely handmade in Italy.

A tight and rigorous quality control, exclusively Made in Italy materials and a bespoke workmanship are the key points around which the company revolves and represent the essence of the luxury design of the precious furniture signed by the Ceppi Style.

Realizing the furnishings for a luxury home is for Ceppi Style win every time a creative and manual challenge: The result are furniture with exclusive and unique flavor, exactly like who will go to live them in everyday life.