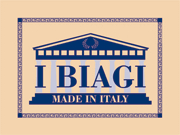 I Biagi Srl
Via Giuseppe Verdi 2
51012 Castellare di Pescia (Pistoia)
Italy
---
There is a Tuscany that never stops surprising for its initiative and originality.
A Tuscany, a people, a tradition that are key players and producers of the Made in Italy excellence recognised worldwide.
It is in this context that I BIAGI was established, grew, and continues to work with passion today.
For more than 30 years it has been a name, a family, that has chosen to illustrate the beauty of art using ancient techniques, creating classic and contemporary objects that continue to amaze.
Products that are both culture and art, having the capacity to generate harmony, proportion, and magnificence, bearing witness to the knowledgeable use of materials passed down through the centuries.
The brand, founded by the brothers Carlo and Franco Biagi in 1987 near Florence, in an area famous for its ancient workmanship of metals, is identified by the classic style of its logo and by its products include an exclusive selection of objects for the table, the home, and furnishings.
Exceptional products for the most part in bronze, produced using a prehistoric technique, developed to maximum levels in ancient Greece and then passed down to us, unfortunately in very few extant works, two of them being the Riace bronzes.
The lost-wax casting technique made history with the most beautiful artworks of the Renaissance.
Used to create extremely precise forms in castings of copper, bronze, and gold, it is a complex, long procedure requiring expert and able hands that know how to cast melted metal without error in a negative mould, starting from a wax exemplar of the sculpture to be transformed into metal.It is therefore thanks to the skill of its artisans (who themselves should be considered living cultural assets) that I BIAGI art continues to take shape.
Traditional and modern. A technique hundreds of years old re-establishes roots in faraway 1957, from the creation of prestigious details in metal to the exquisite accessories of today.
I BIAGI has reached the third generation working with all types of precious materials: bronze, crystal, and hard stones.But thatís not all.
Today it has made available all the knowledge of its 50 years of history to realise innovative solutions to be applied to new types of workmanship.