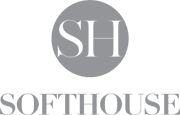 Softhouse
Via Livornese Est 41
56035 Perignano (Pisa)
Italy
---
SOFTHOUSE is a company founded in 1995 by the sisters Laura and Mariella Torri. It is based in Tuscany, an area famous for its master carpentry.

The woman's touch in SOFTHOUSE translates to a watchful eye for detail, rigorous working of form and volume, an open-minded interpretation of the past through simple, natural materials, enhanced by sophisticated and powerful accessories.

A summary of these elements gives rise to the SOFTHOUSE products that often have singular characteristics, perfectly balancing classic and contemporary; eclectic and transversal in terms of space and diversified contexts.

The DNA of SOFTHOUSE has led to developing a true in-house design service, in which a qualified corporate team is able to create ad hoc products to meet increasingly global market needs and collection customisation trends.

This helped internationalise the SOFTHOUSE product mix, now known worldwide for the traditional quality of its products and its production reliability: elements which have contributed to making Made in Italy a trademark known the world over.