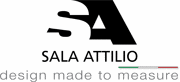 Design doors for partition walls, clean lines
Request quote/price
Similar products
---
From the creativity of Attilio Sala, a design collection of extraordinary aesthetic appeal doors comes.
Graphic motives characterized by the essentiality that suggest different atmospheres.
The search for new expressive horizons, the interest in diversity, find in the interior doors of the collection PW-BC a set of incentives to join and separate spaces with distinctive elegance.
OTHER PRODUCTS BY Sala Attilio
---