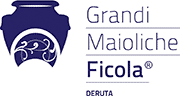 Table with classic decoration
Similar products
---
This design dates back to the beginning of the sixteenth century and, together with Raffaellesco, can be considered the most important classic Deruta designs. It was used by artist Perugino in his frescoes at Collegio del Cambio in Perugia.

Ideal as a garden table or interior table in a classical style room.

A volcanic stone table is everlasting. It does not require any maintenance, it is shock and scratch resistant and can withstand sun, rain, sea salt, extreme temperatures, and any other atmospheric agent.

Available in all sizes and in these shapes: round, square, rectangular and oval.